Cornelius, NC Real Estate Market
As we enter 2021 with our hopes for the vaccine to bring us back to normalcy we look back on a remarkable year in real estate. The combination of record low interest rates, a migration from cold climate, high tax states, and a growing national reputation as a great place to live, Cornelius has become a hot real estate market. Today there are 32 single family homes for sale in Cornelius. In 2019 we normally had in excess of 100 or more single family homes for sale at a given time.
The popular Peninsula neighborhood has only 8 homes for sale currently. The starting price in The Peninsula is $825,000 right now.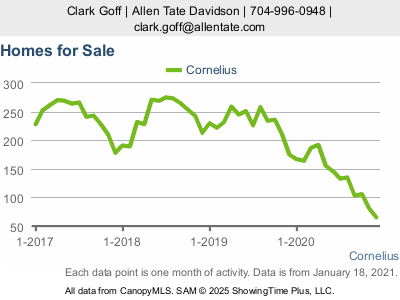 The lack of inventory in town has created a feeding frenzy when an updated, well- priced property comes to market. In 2020 we had multiple offer situations in all price points. I had clients put homes under contract sight unseen so they wouldn't miss out. Showings via Zoom and FaceTime were common. Buyers in this market do everything they can to make their offer stand out.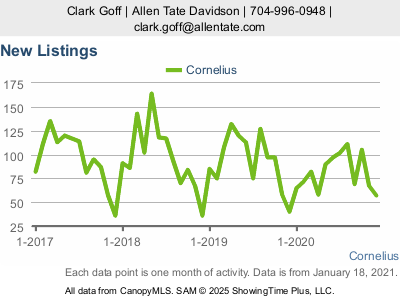 At a minimum buyers today are pre-qualified and often offer asking price or above for the right home. Larger due diligence fees and terms that meet a sellers wishes are common in today's contracts. We have also seen a large influx of cash buyers in Cornelius.
As the Title Sponsor of the Davidson Farmers Market I am at the market on Saturdays and meet folks from all over the country checking out the Lake Norman area. Commonly I'll meet families from New York, New Jersey, California, Florida and Chicago checking us out. Often they remark on our low property taxes.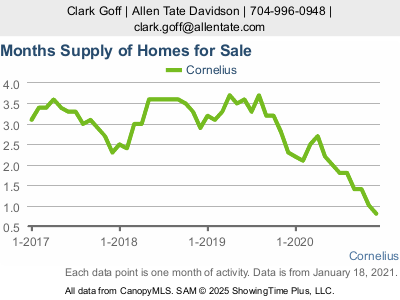 The real estate market is considered balanced when there is a 6 month supply of homes. Cornelius currently has a 0.8 months supply of homes. Anything below 6 months is considered a sellers market. We are in an extreme sellers market right now. Sellers have the upper hand and buyers have no leverage.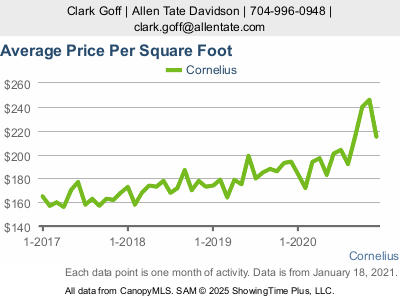 Lack of inventory, record low mortgage rates and a migration to the suburbs is causing prices to rise. We had 98 single family homes close in 2020 at over $1 million in Cornelius.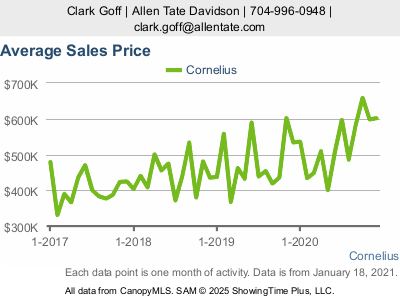 The pandemic has caused housing priorities to shift. People want more space to spread out, a home office, pool or other outdoor living, and community.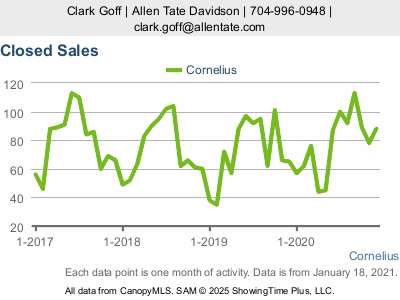 Cornelius is also considered a great place to retire. The Lake, future Cain Center for the Arts and community create an active environment for retirees. We meet people relocating to be near kids and grandkids who have moved to the booming Charlotte region for work. The demand from these buyers for master bedrooms on the main floor and lake access makes certain homes with these features additionally in demand.
Last March, when the pandemic hit, I had no idea what would happen in the local real estate market. Once the heavy stay-at-home orders were relaxed in May and real estate was deemed an essential service the market exploded.
You can see in the chart above that showings collapsed in North Carolina in March and April and rebounded in May.
Living in Cornelius provides a wonderful lifestyle. Area schools are considered very good. There is ample recreation with the parks, greenways and lake.
As we emerge from the weight of the pandemic and life gets back to normal I anticipate continued strength in our local housing market. The only headwind in 2021 may come from mortgage rates starting to tick upward. Right now is the perfect time to refinance or move. If you have not yet, please take advantage of these low rates. I don't imagine we'll see rates this low again in our lifetime.
If you have any questions about the local market or just want to chat please stop by and say hi at the Farmers Market or give me a call.
Clark Goff – Allen Tate Davidson – website